Others → Transport dollies → MOBILETTE dollies → MOBILETTE Nr. 2
code
description
6073

Load area (mm): 1250
Width (mm): 610
Depth (mm): 1725
Weight (kg): 59
Loading capacity (kg): 250

6074

Load area (mm): 825
Width (mm): 610
Depth (mm): 1100
Weight (kg): 33
Loading capacity (kg): 200
description
code: 6073


Load area (mm): 1250
Width (mm): 610
Depth (mm): 1725
Weight (kg): 59
Loading capacity (kg): 250

code: 6074


Load area (mm): 825
Width (mm): 610
Depth (mm): 1100
Weight (kg): 33
Loading capacity (kg): 200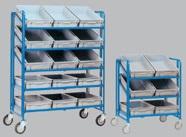 Everything on the move, everything near at hand.
Possibilities: Euro-compartments
No. 2.15:the frame of floors in a raster: 150 mm; variably screwable; 300, 600, 900, 1 200 and 1500mm with a bevel of 15°
No. 2.6: the frame of storeyfloors in a raster: 50 mm; variable screwable; 270, 570 and 870mm with a bevel of 30°; loading of a floor: up to 60kg.
Perfect construction NO. 2: robust construction made of steel pipes and sectional steel. Screw system. Blue RAL 5007. 4 rotational, entirely rubber wheels.
No. 2.15: Ø 125 mm. Plastic compartments 600x400x145 mm as a choice.