Others → Transport dollies → SELECT dollies
code
description
36191.1

Height (mm): 1150

36192.1

Width (mm): 820
Depth (mm): 450
Height (mm): 1150

36193.1

Width (mm): 820
Depth (mm): 450
Height (mm): 1150

36194.1

Width (mm): 820
Depth (mm): 450
Height (mm): 1150
description
code: 36191.1


Height (mm): 1150

code: 36192.1


Width (mm): 820
Depth (mm): 450
Height (mm): 1150

code: 36193.1


Width (mm): 820
Depth (mm): 450
Height (mm): 1150

code: 36194.1


Width (mm): 820
Depth (mm): 450
Height (mm): 1150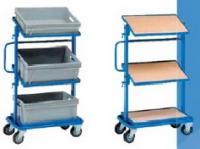 Perfect construction made of steel pipes and sectional steel. Blue RAL 5007.
Height of a floor:215, 675, 1150mm
Loading capacity of the upper and middle floor:50kg
Loading space:600x400mm
Total loading capacity: 200kg
2 rotational and 2 fixed wheels Ø 125mm
Entirely rubber wheels, Wheel hubs with a cylindrical roller bearing
The construction with a tiltable loading space can be tilted 15° and 30° at both sides Arrestment by a spring-loaded detent.
No. 1 and 2 including 3 containers in grey:
1 pc 600x400x145mm,
2 pcs 600x400x220mm.