ECO containers IBC → Containers ECO
code
description
MX 1000
Name: MX 1000


Article: MX 1000
Volume: 1000 litres (275 gal.)
Dimensions (mm): 1200x1000x1160
License: UN31HA1/Y
Inner container: extrusion blow - moulded HDPE
Outer jacket: welded tubular steel cage, galvanised
Bottom plate: made of steel
Pallet: tetrahedral, steel, plastic
Filling opening: DN 150 with screw cap, DN 225 on request
Outlet valve: screwable butterfly valve DN50, ball valve DN 50

MX 1250
Name: MX 1250


Article: MX 1250
Volume: 1250 litres (330 gal.)
Dimensions (mm): 1200x1000x1350
License: UN31HA1/Y
Inner container: extrusion blow - moulded HDPE
Outer jacket: welded tubular steel cage, galvanised
Bottom plate: made of steel
Pallet: tetrahedral, steel, plastic
Filling opening: DN 150 with screw cap, DN 225 on request
Outlet valve: screwable butterfly valve DN50, ball valve DN 50

MX 640
Name: MX 640


Article: MX 640
Volume: 640 litres (170 gal.)
Dimensions (mm): 1200x800x1000
License: UN31HA1/Y
Inner container: extrusion blow - moulded HDPE
Outer jacket: welded tubular steel cage, galvanised
Bottom plate: made of steel
Pallet: tetrahedral, steel, plastic
Filling opening: DN 150 with screw cap, DN 225 on request
Outlet valve: screwable butterfly valve DN50, ball valve DN 50

SX/EX1000
Name: SX/EX1000


Name: SX/EX/1000
Volume: 1000 litres (275 gal.)
Dimensions (mm): 1200x1000x1160
License: UN31HA1/Y
Application: combustibles of I. and II. level/licence nr. 01723/101/1/200/ SKTC-101/
Inner container: extrusion blow - moulded HDPE
Outer jacket: electrically conductive steel cover, welded tubular steel cage, galvanised
Bottom plate: made of steel
Pallet: tetrahedral, steel, plastic
Filling opening: DN 150 with screw cap
Outlet valve: integrated conductive butterfly valve DN50, ball valve DN 50
description
Názov: MX 1000
code: MX 1000


Article: MX 1000
Volume: 1000 litres (275 gal.)
Dimensions (mm): 1200x1000x1160
License: UN31HA1/Y
Inner container: extrusion blow - moulded HDPE
Outer jacket: welded tubular steel cage, galvanised
Bottom plate: made of steel
Pallet: tetrahedral, steel, plastic
Filling opening: DN 150 with screw cap, DN 225 on request
Outlet valve: screwable butterfly valve DN50, ball valve DN 50

Názov: MX 1250
code: MX 1250


Article: MX 1250
Volume: 1250 litres (330 gal.)
Dimensions (mm): 1200x1000x1350
License: UN31HA1/Y
Inner container: extrusion blow - moulded HDPE
Outer jacket: welded tubular steel cage, galvanised
Bottom plate: made of steel
Pallet: tetrahedral, steel, plastic
Filling opening: DN 150 with screw cap, DN 225 on request
Outlet valve: screwable butterfly valve DN50, ball valve DN 50

Názov: MX 640
code: MX 640


Article: MX 640
Volume: 640 litres (170 gal.)
Dimensions (mm): 1200x800x1000
License: UN31HA1/Y
Inner container: extrusion blow - moulded HDPE
Outer jacket: welded tubular steel cage, galvanised
Bottom plate: made of steel
Pallet: tetrahedral, steel, plastic
Filling opening: DN 150 with screw cap, DN 225 on request
Outlet valve: screwable butterfly valve DN50, ball valve DN 50

Názov: SX/EX1000
code: SX/EX1000


Name: SX/EX/1000
Volume: 1000 litres (275 gal.)
Dimensions (mm): 1200x1000x1160
License: UN31HA1/Y
Application: combustibles of I. and II. level/licence nr. 01723/101/1/200/ SKTC-101/
Inner container: extrusion blow - moulded HDPE
Outer jacket: electrically conductive steel cover, welded tubular steel cage, galvanised
Bottom plate: made of steel
Pallet: tetrahedral, steel, plastic
Filling opening: DN 150 with screw cap
Outlet valve: integrated conductive butterfly valve DN50, ball valve DN 50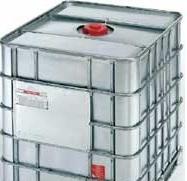 System of ECO containers represents a device with a great ability of saving energy of transport machinery. Minimizing of package costs at most secure transportation possible and possibilities of multiple container loading are the most important requirements for the future and for an ecology success.
Deciding for bigger packaging units is definitely an economic solution because of cost reducing of:
1. Filling, sealing, marking
2. Transport logistics, stacking
3. Removal of filling material
4. Utilization of storage spaces
5. Utilization of space in transport vehicles
6. Repeating preparation of tanks
7. Multiple use of containers
ECO containers are easily manipulatable and stackable in four layers. As to their manipulation, it is possible to use all available stackers, fork-lift trucks or cranes, which enable high speed of transloading and low costs. Containers are certified for conveyance and storage of dangerous materials (ADR), combustibles of I. and II. category and for the contact with eatables.
EKO containers are ideally suited to the requirements of the chemical industry. They offer uniquely high quality and therefore guarantee a maximum level of security transport of liquid products. Modern design facilitates easy replacement of the plastic and metal components.