BARRELS, PALETTE → Drums, barrels, canisters → Canisters, barrels, buckets → Oval buckets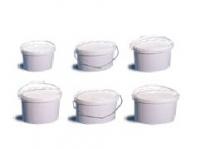 Oval buckets are particularly suitable for pharmaceutical, chemical industry and for the food. The closure lid is made so that it is secure special insurance policy.
They are produced in volumes: from 2.3 liters to 19.1 liters.