Waste boxes → Waste oil tanks → EcoWork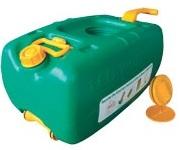 EcoWork® is a very safe and universal tank. It was designed for an easy collection of large amounts of used edible oils. Health protection of the staff is guaranteed thanks to a telescopical handle and wheels. These ensure an easy mobility. Thanks to an additional handle, the manipulation during stacking is very simple. Oils can be collected wherever and they can be also transported to a certain collecting place.
• the maximum number of full tanks in one stack (one at each other) 4 pcs, which corresponds with the 144-litre ,
• dimensions 57 x 37 x 28 cm,
• volume 36 l.

Collection containers for edible oil from cafeterias and restaurants.