Waste boxes → Waste oil tanks → EcoHouse® Small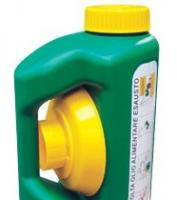 EcoHouse® Small sú špeciálne nádoby na zber použitých jedlých olejov v domácnosti. Séria EcoHouse je veľmi praktická, vhodná do ruky, vo veľkosti 2,2 l. Nádoby sú vybavené bezpečnosným uzáverom (detskou poistkou) a lievikom so zabudovaným sitkom. Lievik je prakticky umiestnený, ľahko dostupný. Veľkosť i dizajn nádob sú vhodné do každej kuchyne.
EcoHouse® Small:
made of PEHD for vegetable oils
dimensions 12,5 x 16 x 25,5 cm (fits in a shelf)
volume 2,2 l
weight 260 g
packaging in cartons by 72 pcs (80 x 60 x 78),
unlimited durability
100% recyclable
non-toxic material and colouring
your logo made to order over 500 pcs
equipment – labels and tags
Containers for storage use of domestic edible oil.
These statements are informative and are liable to changes without any notified annoucements.