Waste boxes → Waste oil tanks → EcoHouse® Light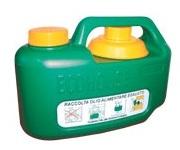 EcoHouse® Light are special doses for collection of used edible oils in households. The EcoHouse series is very practical, fiting in your hand, with the volume of 5,5l. The doses are equipped with a safety block (child safety lock) and a funnel with built-in sieve. The funnel is practically situated and easily accessible. Both size and design are convenient for the use in every kitchen.
EcoHouse® Light:
made of PEHD for vegetable oils
dimensions 31 x 14,5 x 21,7 cm
volume 5,5 l,
weight 400 g,
packaging in cartons 30 pcs (80 x 60 x 78),
unlimited durability
100% recyclable
non-toxic material and colouring
your logo made to order over 500 pcs
equipment – labels and tags
Containers for storage use of domestic edible oil.
These statements are informative and are liable to changes without any notified annoucements.