Waste boxes → Waste oil tanks → Container H-Oli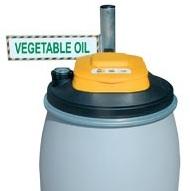 H-Oli containers were developed to serve as collecting containers for edible oils from households. Thanks to their safety parameters and big lid, H-Oli containers can be emptied very easily. Manipulation and transportation is also very simple.
H-Oli containers meet all European Union norms of transport and dangerous substances (UN-RID-ADR).
Technical parameters:
made from grey HDPE
water-proof, easily washable and cleanable
volume 115 l,delivered fully fitted with a galvanized chain and lock
including a ventilation with a odour filter and safety valve, that prevents from overfilling the container and leakage of its content if overturned
equipped with a funnel and filter in order to assure a clean collecting and better quality of collected oils
dimensions: height 950 mm, diameter 500 mm, volume115 l.
Accesories on request:
galvanized anchoring bar with a plate serving for fixation into the ground lid lock