Others → Mats → SAFETY STANCE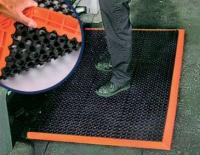 Mats suitable for dry industrial environments or environments with liquids with occasional leakage.
• world-class ergonomic mats , drainage holes along with projections for bottom of the falling of debris and allow drainage of fluid from the surface mats . He stays dry and clean ,
• orange mats have a significant edge on 3 sides for added security , in accordance with OSHA Code 1910-144 ,
• 100 % nitrile compound,
• suitable for multi-shift operation ,
• adhesion R10 according to DIN51130 and BG -rule ,
• suitable lakovien ( without silicone additives )
• with the vertical edges of the mats may be used to cover a variety of sizes and shapes putting behind or next to each other using nitrile coupling or bonding ,
• Regular cleaning with detergent and water pressure will extend the life of mats ,
• assemblies can be added leading edge MD - Ramp System with integrated internal and external corners.
Size and color : black mat 91 cm x 152 cm
Black nitrile coupling - 30 cm
orange , black, yellow leading edge - 91 cm or 152 cm