Plastic products → CONTAINERS → KLT containers
code
description
40-3214

External dimensions (mm): 300 x 200 x 147
Volume (l): 4,6
Standard colour: pale blue

40-3217

External dimensions (mm): 300 x 200 x 174
Volume (l): 5,6
Standard colour: pale blue




40-4314

External dimensions (mm): 400 x 300 x 147
Volume (l): 9
Standard colour: pale blue

40-4317

External dimensions (mm): 400 x 300 x 174
Volume (l): 11
Standard colour: pale blue

40-4321

External dimensions (mm): 400 x 300 x 213
Volume (l): 14
Standard colour: pale blue

40-4328

External dimensions (mm): 400 x 300 x 280
Volume (l): 19
Standard colour: pale blue

40-6414

External dimensions (mm): 600 x 400 x 147
Volume (l): 18
Standard colour: pale blue

40-6417

External dimensions (mm): 600 x 400 x 174
Volume (l): 23
Standard colour: pale blue

40-6421

External dimensions (mm): 600 x 400 x 213
Volume (l): 30
Standard colour: pale blue

40-6428

External dimensions (mm): 600 x 400 x 280
Volume (l): 43
Standard colour: pale blue

40-6410

External dimensions (mm): 600 x 400 x 280
Volume (l): 46
Standard colour: pale blue
description
code: 40-3214


External dimensions (mm): 300 x 200 x 147
Volume (l): 4,6
Standard colour: pale blue

code: 40-3217


External dimensions (mm): 300 x 200 x 174
Volume (l): 5,6
Standard colour: pale blue




code: 40-4314


External dimensions (mm): 400 x 300 x 147
Volume (l): 9
Standard colour: pale blue

code: 40-4317


External dimensions (mm): 400 x 300 x 174
Volume (l): 11
Standard colour: pale blue

code: 40-4321


External dimensions (mm): 400 x 300 x 213
Volume (l): 14
Standard colour: pale blue

code: 40-4328


External dimensions (mm): 400 x 300 x 280
Volume (l): 19
Standard colour: pale blue

code: 40-6414


External dimensions (mm): 600 x 400 x 147
Volume (l): 18
Standard colour: pale blue

code: 40-6417


External dimensions (mm): 600 x 400 x 174
Volume (l): 23
Standard colour: pale blue

code: 40-6421


External dimensions (mm): 600 x 400 x 213
Volume (l): 30
Standard colour: pale blue

code: 40-6428


External dimensions (mm): 600 x 400 x 280
Volume (l): 43
Standard colour: pale blue

code: 40-6410


External dimensions (mm): 600 x 400 x 280
Volume (l): 46
Standard colour: pale blue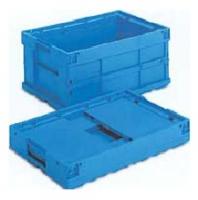 System of plastic containers (KLT) was developed on the basis of car industry requirements on its suppliers (VDA-DIN 300820, French Galia pool system).
Their main benefits include many possibilities of gripping within both vertical and horizontal robot manipulation in automated production (pulling, pushing, and lifting). Containers of various dimensions can be stacked at each other into a form shape that can be dispatched as an integrated container unit secured by a lid. Ribbed base ensures high loading capacity.
Other variants on request.