Plastic products → CONTAINERS → Conductive containers
code
description
3-206-0 EL

External dimensions (mm): 300x200x120
Internal dimensions (mm): 258x158x114
Volume (l): 5

3-211-0 EL

External dimensions (mm): 400x300x65
Internal dimensions (mm): 358x258x62
Volume (l): 5

3-203G-0 EL

External dimensions (mm): 400x300x120
Internal dimensions (mm): 358x258x114
Volume (l): 10

3-4313-0 EL

External dimensions (mm): 400x300x145
Internal dimensions (mm): 364x264x130
Volume (l): 12

3-207G-0 EL

External dimensions (mm): 400x300x170
Internal dimensions (mm): 358x258x165
Volume (l): 15

3-204L-0 EL

External dimensions (mm): 400x300x220
Internal dimensions (mm): 358x258x217
Volume (l): 20

3-205A-0 EL

External dimensions (mm): 400x300x325
Internal dimensions (mm): 358x258x320
Volume (l): 30

3-212U-0 EL

External dimensions (mm): 400x300x270
Internal dimensions (mm): 352x252x268
Volume (l): 24

3-6406-0 EL

External dimensions (mm): 600x400x78
Internal dimensions (mm): 565x365x63
Volume (l): 10

3-200N-0 EL

External dimensions (mm): 600x400x120
Internal dimensions (mm): 553x353x114
Volume (l): 20

3-6413-0 EL

External dimensions (mm): 600x400x145
Internal dimensions (mm): 564x364x130
Volume (l): 26

3-208N-0 EL

External dimensions (mm): 600x400x170
Intenal dimensions (mm): 558x358x165
Volume (l): 30

3-201U-0 EL

External dimensions (mm): 600x400x220
Internal dimensions (mm): 552x352x215
Volume (l): 40

3-6426-0 EL

External dimensions (mm): 600x400x278
Internal dimensions (mm): 561x361x262
Volume (l): 53

3-202L-0 EL

External dimensions (mm): 600x400x325
Internal dimensions (mm): 552x352x320
Volume (l): 60

3-209N-0 EL

External dimensions (mm): 600x400x425
Internal dimensions (mm): 555x355x422
Volume (l): 90
description
code: 3-206-0 EL


External dimensions (mm): 300x200x120
Internal dimensions (mm): 258x158x114
Volume (l): 5

code: 3-211-0 EL


External dimensions (mm): 400x300x65
Internal dimensions (mm): 358x258x62
Volume (l): 5

code: 3-203G-0 EL


External dimensions (mm): 400x300x120
Internal dimensions (mm): 358x258x114
Volume (l): 10

code: 3-4313-0 EL


External dimensions (mm): 400x300x145
Internal dimensions (mm): 364x264x130
Volume (l): 12

code: 3-207G-0 EL


External dimensions (mm): 400x300x170
Internal dimensions (mm): 358x258x165
Volume (l): 15

code: 3-204L-0 EL


External dimensions (mm): 400x300x220
Internal dimensions (mm): 358x258x217
Volume (l): 20

code: 3-205A-0 EL


External dimensions (mm): 400x300x325
Internal dimensions (mm): 358x258x320
Volume (l): 30

code: 3-212U-0 EL


External dimensions (mm): 400x300x270
Internal dimensions (mm): 352x252x268
Volume (l): 24

code: 3-6406-0 EL


External dimensions (mm): 600x400x78
Internal dimensions (mm): 565x365x63
Volume (l): 10

code: 3-200N-0 EL


External dimensions (mm): 600x400x120
Internal dimensions (mm): 553x353x114
Volume (l): 20

code: 3-6413-0 EL


External dimensions (mm): 600x400x145
Internal dimensions (mm): 564x364x130
Volume (l): 26

code: 3-208N-0 EL


External dimensions (mm): 600x400x170
Intenal dimensions (mm): 558x358x165
Volume (l): 30

code: 3-201U-0 EL


External dimensions (mm): 600x400x220
Internal dimensions (mm): 552x352x215
Volume (l): 40

code: 3-6426-0 EL


External dimensions (mm): 600x400x278
Internal dimensions (mm): 561x361x262
Volume (l): 53

code: 3-202L-0 EL


External dimensions (mm): 600x400x325
Internal dimensions (mm): 552x352x320
Volume (l): 60

code: 3-209N-0 EL


External dimensions (mm): 600x400x425
Internal dimensions (mm): 555x355x422
Volume (l): 90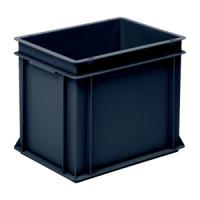 Electronic components are at risk of destruction by electrostatic discharge not only during transport, but also during the storage or assembly. System of conductive plastic covers offers two-fold protection of products in the process of manufacture, storage and transportation. Electrically conductive plastic prevents from destruction by electrostatic discharge and from mechanical damage, soiling and moisture.
Following assortment can be produced by electrically conductive material:
RAKO containers, cases, exchangeable internal inserts, covers for boards with printed circuit, containers for connecting material SILAFIX, pallets.